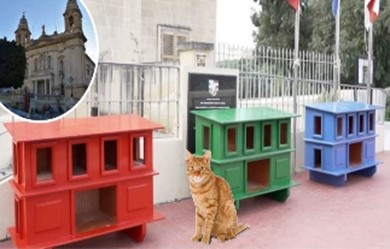 17 Apr

Young reporters for the environment 2023 submissions

Immaculate Conception would like to present two submissions for the Young Reporters for the Environment. One is an interesting report on Cat Shelters by Leah Genovese and Eliana Marie Caligari Conti who are members of the Eko Skola and a video researching Litter. 

Cat Shelters

It all started when the cat feeders created shelters from unwanted objects, blankets and towels. Their intention was to help cats keep warm during cold days, but unfortunately these areas ended up as scrap and dumping areas. The people living around these areas started complaining and even filed police reports. The workers assigned by the local councils had no other choice but to clean up these areas.

After all this turmoil, the cats ended up with no shelter. The Malta Association of Cat Feeders together with the local councils decided to make a plea to the local government to help finance a project to create proper cat shelters in areas appointed by the local councils within their respective localities. These cat shelters were planned according to the size of the colony. In Ħal Tarxien it was decided to keep the colonies in several gardens within the locality, with most of them being in Joanne Gardens.

Some localities decided to gather all the cats in one garden. In Sliema the cats are all in Independence Gardens, whereas in Żabbar, the mayor bought 6 plastic shelters for the stray cats and placed them in a specific area at Żabbar playground. At San Ġiljan, the cat shelters are situated in the area of Tal-Qaliet. In February 2022, San Lawrenz Gozo planned to have a cat clinic and shelters. Parks Malta also placed colourful series of shelters at Żurrieq village. Fgura also have 8 colourful cat shelters.